THE 5 C'S TO KEEP YOUR BUSINESS AFLOAT DURING THIS PERIOD
Life can be downright difficult at times, but this latest coronavirus epidemic is a whole new ballgame. Getting through this COVID-19 crisis for many may seem almost impossible, especially with the social distance restrictions enforced and the Work-From-Home order (WFM).
One study from Berlin Cameron has shown that 43% of more than 1,250 millennials believe that brands need to step forward and help, and 36% of them believe brands should communicate more than usual (Heusner, 2020). That explains why nearly half of millennials think brands should continue their efforts during this time and not just go into hibernation mode. We'll share some tips that we have, hopefully shedding some light on the subject and offering a sliver of hope especially for business owners that are in a sea of turmoil.
Here are 5Cs to help steer the choppy waters of commerce:
Craft a business plan
A solid business plan should be your blueprint for coping after COVID-19 (Haden, 2018). It should flesh out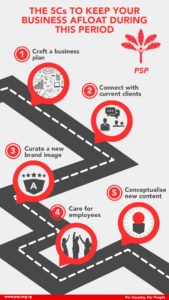 your marketing and sales plan, create the base for smooth operations, and plan for future events. It's good to always remember that hard times don't last, but hard people do. To avoid wasting time and money on a futile plan, your business plan should convince you that your idea is not just a dream but can be a viable reality. So, at a minimum, your plan should always be realistic and be prepared in good times as that would be an opportunity to recover the cost.
Market research is critical to business planning. A useful business plan analyses and evaluates customer demographics, purchasing habits and willingness to adopt new services. First and foremost, you must understand your market and current trends. Your analysis should also go further by planning your future events. By planning ahead and checking out what future events are related to your company, you may even discover that this might be a good time to reserve your spot for roadshows or events as it could be a cheaper option!
Connect with current clients
While the world may be topsy-turvy at the moment, keeping your customer close is more important than ever. Especially at times like this, companies continually need to show that personal and emotional connections that customers crave will always be present. Whilst keeping the business sailing through difficult times, finding a way to stay connected with customers is equally crucial as its something that your most loyal customers will undoubtedly remember when we return to some semblance of normalcy.
Whether it's through a weekly or monthly email, if you can delight your readers with rich insights, people will read every word you send their way and still want more. The content you create and send should engage people in a way that makes them your future clients. Whatever it is, the content should be tailored to your brand and the unique aspects of your business. You can also offer seasonal offers or discounts to your subscribers if these are the things they care about!
Curate a new brand image
A crisis is just another name for an opportunity to capture the hearts of customers. When there's slack, you have the opportunity for reflection, refinement, and redesign that you probably wish was available. Businesses can take this chance to upgrade their website or install new features that can stir your customers' interest.
With plenty of time on your customers or clients hands while staying at home,  this would be a good opportunity for you to dig up information on what they actually think about your business, and how you can improve. Information gathered from customer surveys provides valuable insights to understand your customer needs and wants which will keep them coming back to you in the long term. It makes sense to retain customers and develop brand loyalty so that not only do they return to purchase from you, but they become advocates of your brand.
Also, many shoppers are opting for online shopping platforms, especially during this critical period. Business owners, especially SMEs, should keep up with the current shopping trends, and market your product and services by avoiding the pitfalls that many companies face when they first started their eCommerce store. Let's take Ecommerce CEO's free guide to a smooth ride for eCommerce business as a guideline (DeMatas, 2020). We can definitely learn a thing or two about establishing your brand online.
Care for employees
Not that long ago, I was re-watching the movie "How to Train Your Dragon", and I picked up a new lesson: the importance of connecting with your peers. How to Train Your Dragon narrates the story of a remarkable friendship and connection that not only shapes two extraordinary individuals but also changes the course of the world's history. Hiccup is meant to be a chief. A king, a leader, a pillar of strength for his people, and the soulmate of Toothless. Toothless and Astrid gave Hiccup the courage and determination to stay and step into the responsibility of whom he was made to be, and changes the world forever.
Back in reality, the same idea applies. A survey by the Society for Human Resource Management has shown that 74% of respondents stated that one of the top five factors influencing their engagement at work was their relationship with their supervisor (Source For Human Resource Management, 2016). And when companies have a more engaged team, they are more productive and more profitable.
Businesses can survey employees, knowing what's going on with people at your company is every bit as important as knowing what the customers are doing. To keep the morale up amongst staff, you can also organise games such as a surprise Kahoot! quiz relating to the company's history, or team building activities with Kahoot!. Not only is Kahoot! an online platform that achieves tangible learning impact, it also engages all participants who can play with remote team members at an affordable price (Richard, et al., 2020). Now that's a Win-Win situation!
Connecting with your team on a personal level will be an area you must focus on if you want to build and retain top talent. When you do, employees will motivate each other, and you'll be able to boost engagement, productivity, and of course – profits!
Conceptualise new content
Stories will spread through the power of social media. Being active on social media platforms helps to build on your brand presence and becomes a brand that lives on public social consciousness.
Curating excellent content is a great way to strengthen and build your brand presence, and this will give you an edge over your competitors when business goes back to normal. Social platforms, for instance, YouTube and Instagram, or blog articles on your website help you to reach a broad, highly targeted audience likely to respond positively to your brand. You can also be a prolific guest blogger and guest post on blogs and websites to establish and enhance your brand favourability!
Like people, each company has its saga of growth and success. And it is vital that you craft this story and share it with the world to build deep emotional connections and customer trust.
Storytelling will not only increase brand favourability in consumers' eyes, but can also be up to 22 times more memorable than facts. Consistency, honesty and evidence will help your brand story reach the hearts and minds of consumers. Once your audience knows, trusts and likes you, they will be more likely to buy from you and own a part of the story. At the very least, you would have created relationships with people who will become advocates for years to come!
Final thought:
Business continuity is crucial – employees must be protected and able to work effectively so that they can contribute to the good of the economy and society. However, surviving difficult times is easier said than done and requires a healthy outlook and great planning. We hope that our 5Cs has helped you to better mitigate the current situation. Remember, bad times don't last forever!
"Everything will be okay in the end. If it's not okay, then it is not the end." ~ Ed Sheeran.
This blog post was first shared on Right Hook Communications website on 7th April 2020