Reflections on Westworld by a Singaporean
by Shaun Choo
With some extra time on hand due to the lockdown, I decided to catch the third season of HBO's Westworld. I had heard that it featured locations shot here in Singapore, and I was excited to see Singapore represented in one of the most popular shows in the US, and indeed around the world. I was very proud that we were being showcased on screen to an international audience, and I was curious to see how Singapore would be presented on TV.
Show creator Jonathan Nolan said that they picked Singapore because it was a modern city: "The goal from the beginning was to find the future. If you go out in the world the future is there, it's in places like Singapore".
However, I was conflicted when I heard Singapore get namechecked in episode four. Filmed in the luxurious ATLAS Bar (with a 15-metre-tall gin tower to boot!), Maeve looks around at her spectacular surroundings and asks mockingly, "Another simulation?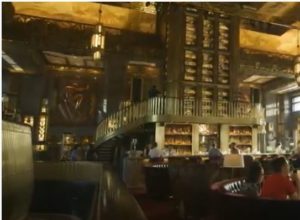 Well, this one is a bit over the top", only to have Serac reply, "No Maeve, it's Singapore." To the audience, it was a subtle acknowledgement that this palatial paradise was a real place, and not just another piece of Hollywood magic.
On one hand, I felt quite a bit of national pride at the fact that people around the world would realise that Singapore is such an advanced country, with swanky restaurants like ATLAS Bar – which was named the "Best Bar in Asia" by the World's 50 Best Bars awards. On the other hand, I couldn't help but think "Is this the real Singapore?" Throughout the season, there were many times when I struggled to recognise whether a certain impressive location was shot in Singapore. My initial reaction was always "Is this really what Singapore looks like, or is it just CGI?" Of course, within the context of the show, Singapore is supposed to represent a futuristic cityscape set in 2053. It is natural that they would want to showcase our most spectacular and exotic locales. But somehow, I couldn't shake this disquieting thought: Was the Singapore depicted in Westworld the actual lived experience of the majority of Singaporeans?
Don't get me wrong. I don't mean to say that simply featuring the ATLAS Bar in Westworld reflects any deepening social divide. There will always be high-end places for people to enjoy the finer things in life. This is to be expected. And locations like the National Gallery and LASALLE are public spaces which are technically accessible to all. If you wanted to, you could also walk around Marina One to explore its fascinating architectural design (Of course, whether you have a chance to live in one of its apartments or work in its offices is a different story). But for the average Singaporean living in heartland areas like Choa Chu Kang or Toa Payoh, are these places which they will actually visit? Unless you were attending a concert at the Esplanade, or picking your daughter from school at LASALLE, would an ordinary Singaporean actually venture into these places just to jalan-jalan? Or would he feel out of place?
Associate Professor Teo You Yenn in her thought-provoking book This is what Inequality Looks Like (2018) describes her experience of "meeting people for whom [Singapore] is… rarely explored beyond a few must-go places – the schools their kids attend; the market to buy food; the bank to deposit money; the post office to top up their pre-paid utilities cards or pay other bills. While people in [her] social circle go wherever they wish on a regular basis… [she] was meeting people whose experience of space in Singapore was limited to a radius of a few kilometres. If they travelled longer distances, it was to get for home to work and not necessarily to use leisure or consumption spaces."
Indeed, income inequality has been an ever-worsening problem in Singapore. Part of the resonance of the multiple Oscar-winner Parasite (2019) was its critique of South Korea's widening income gap, where society has become stratified between the "haves" and the "have nots". Reuters reported that "the film's message resonated with many South Koreans who identify themselves as "dirt spoons", those born to low-income families who have all but given up on owning a decent house or climbing the social ladder, as opposed to "gold spoons", who are from better-off families." Yet based on the latest Gini coefficient data by the Ministry of Finance, Singapore has a higher level of income inequality than South Korea, regardless of whether the "before taxes and transfers" or "after taxes and transfers" figures are used. In fact, Singapore's Gini coefficient "after taxes and transfers" (0.356) is higher than South Korea's "before taxes and transfers" figure (0.341).

If left unchecked, this will lead to the social problems depicted in the movie Parasite. During an interview at the Institute of Policy Studies' 30th anniversary dinner, Professor Tommy Koh made the point to DPM Tharman Shanmugaratnam that "In Singapore, the elite does not show respect for people who work as cleaners, gardeners, petrol station attendants, security personnel. So one of the problems in Singapore is [that] these low-wage workers are treated as invisible people." We have seen how this problem manifested itself recently in the outbreak of COVID-19 in our overcrowded migrant worker dormitories. When people are treated as invisible and dispensable, the entire country suffers.
In the final episode, Delores says "Some people see the ugliness in this world, the disarray. I was taught to see the beauty. But I was taught a lie. And when I saw the world for what it really was, I realised how little beauty there was in it. I've lived many lives, I traded one role for another. But in the end, my path has led me here, to you. And we have a choice to make." Westworld captured the beauty of our metropolitan cityscape, but it is up to us as Singaporeans to decide whether more should be done to see the ugliness of poverty and inequality for what it is, and then to change it into something better.
Links:
Disclaimer:
The author of the above article writes in his own capacity with his views and opinion only to himself and are in no way a representation of the Party.